Summary: In search of the best After Effects alternative? Well, you've come to right place. This post lists the top 11 best paid and free After Effects alternatives that are worth trying.
Adobe After Effects sits at the pinnacle of 2D-based animation compositing and VFX tools with great motion graphics tools and well-supported communities with a plethora of scripting, plugins, templates, and tutorials for creating spectacular outcomes. However, the demand for After Effects alternatives is growing because of it's high subscription fee ($20.99/month under an annual plan), random crashes, and the steep learning curve.
Thus, I tested dozens of the similar software to After Effects and picked up the 11 best Adobe After Effects alternatives eventually. Keep reading, whether you are looking for some free After Effects replacements or you want more powerful alternative, you'll find the desired tool that can fit your demand and budgets.
5 Free Adobe After Effects Alternatives
1. Natron - After Effects Free Alternative
"This is undoubtedly the best and probably the only (except blender) node based Open Source compositing software out there which is also free for commercial usage."
-Users review from g2.com
Natron, considered as the best open source and free After Effects open source alternative by many Reddit users, is a free and open-source compositor. It's capable of generating unlimited layers of masks, matters, and shapes. It can also be utilized to create simple 2D/2.5D animation VFX. The nitty interface, as well as the node-based compositing workflow of Natron, is nearly the same with the expensive Nuke (an advanced After Effects alternative that we'll talk about later) which enables you to set expressions on animation curves to create animation move objects.
It's killer features:
Support countless open-source plugins as well as commercial add-on.
Easily accomplish your tracking jobs with the 2D planar tracker.
Support JPG, PNG, PSD, TIFF, and a number of file formats.
Render multiple graphs simultaneously.
Pros:
Node-based compositing
Open source and cross-platform
The curve editor is similar to After Effects
Cons:
Take steep learning curve to learn
No preset particle effects
Not good at motion design and 3D effects creation
Natron VS After Effects
Natron wins in: Node-based Compositing, Ease-of-Use, Customizable, Cross-platform.
After Effects wins in: Title Creation/Generation, Motion Graphics, 3D Compositing, Color Grading, 3D Models Importing, Particle Generators, Simulations, 2D/3D Animation, Render Speed, Rotoscoping, Third-Party Plugins, Audio Editing.
2. VideoProc Vlogger - After Effects Free Alternative
Price: Free
Ease of Use: ⭐⭐⭐⭐⭐
OS: Windows and macOS
Click the below green button to download
"VideoProc Vlogger is intuitive and capable video editing software for all creators. Make cinematic videos for everyday creativity, special moments, or fun. Change video speed constantly or variably, and liven up your videos with speed ramping."
- Users review from sourceforge.net
If you need an easier Adobe After Effects alternative that can help you quickly elevate your videos with stunning video effects like snow, fire, colorful bubbles, and rainstorm, then VideoProc Vlogger might be your best pick. This 100% free-of-charge video editing software supports 999+ timeline tracks and comes with 50 eye-catching effects and 15+ animated title templates.
In addition, it presets 40+ motion effects that help create crop opening/closing transitions, imitates camera movement, adds ken burns effect, etc. These ensure non-technique users create impressive outcomes without hassles.
VideoProc Vlogger
Its killer features:
A growing library with a number of stylish effects templates
Fast reframe video, imitate camera movements, or create other cool effects with the Motion Editor
Support compositing (20+ blend modes), green screen (chroma key), alpha channel, etc.
Easily create animated text with dozens of title templates and rich customized options
Self-explained interface. No learning curve to get an awesome result
3. Blender - After Effects Free Alternative
Ease of Use: ⭐⭐
Films that used Fusion for production: Cosmos Laundromat, Agent 327
Download Link: https://www.blender.org/download/
OS: Linux, macOS, FreeBSD, Windows
"I am an avid user of Blender. I have utilized this program to create 3D animations for clients and to craft animated characters for game design projects. Since 2013 I have used this program for all of my 3D modeling needs."
- Users review from Capterra.com
Blender is another open source and free alternative to After Effects. It's a 3D animation and modeling program with integrated compositors. That's being said the killer feature of Blender is its capability in creating stunning 3D animation graphics.
If your work requires lots of 3D effects, Blender can deliver further more possibilities than After Effects does. And Better yet, everything you can do about 2D-based VFX and composition with After Effects can get accomplished in Blender, though very possibly in a more time-consuming and cumbersome way.
Produced by Blender Animation Studio
Its killer features:
All in one: modeling, UV mapping, animation, 2D design, composition, and more
Support Python 3, allowing you to create custom add-ons.
Add multi-effects in a non-destructive way with the smart modifier
Offer a full set of video and audio editing tools
One of the most lightweight 3D computer graphics software
Pros:
Open source and cross-platform
The advanced physics simulation engine
Good at drawing in 3D with grease pencil object
Support GPU acceleration
Cons:
Blender VS After Effects
Blender wins in: 3D compositing, 3D modeling, Editing Capabilities, Cross Platforms.
After Effects wins in: 2D animation, Render Speed, 2D Motion Graphic and VFX work, Templates Creation, Title Generation, Rotoscoping, Third-Party Plugins, Text Motion Tracking.
4. Blackmagic Fusion – After Effects Free Alternative
"The Fusion inside Resolve, is not really ready for productions with a large amount of huge VFX scenes. So this product fits right into my pipeline nicely. Works well with 3D tracking software like SynthEyes, plus has nice trackers that come with it as well."
- Users review from Adorama.com.
Fusion is developed by Blackmagic Design as a standalone application-Fusion 16, and also an integrated utility in Davinci Resolve 16. As a professional compositing software, it's widely used by broadcast companies, TV-series producers, and commercials to create special visual effects, motion graphics, virtual reality video, camera/planar tracking, animate titles, etc.
With the advanced stereoscopic 3D tools, this After Effects free alternative is capable of loading and rendering 3D models and scenes.
What's more? You can add interactive physical effects like wind and gravity with 2D/3D objects in the scene. Suppose you are using the Fusion tab integrated with the free DaVinci Resolve, you can get access to the advanced audio/video editing toolsets, and the strong color-correction utility as well.
Fusion Compositing
Its killer features:
Advanced 3D compositing, motion tracking, and rotoscoping, and more
Process videos with different resolutions and color depth
Boast a raft of onboard and extra plugins
Pros:
Node-based workflow
Support GPU acceleration
Easy to create 3D animated titles
Cons:
Not friendly for green hands
Fusion VS After Effects
Fusion wins in: Node-based Compositing, Color Grading, Video Editing, Audio Editing, VFX work, Cross-Platform.
After Effects wins in Stable, 2D/3D animation, Render Speed, 2D Motion Graphic, Templates Creation, Title Generation, Third-Party Plugins, Simulations.
5. Cavalry - After Effects Free Alternative
"The thing I love about Cavalry is the influence of Cinema4D. You have deformers and behaviors (effectors) and can use falloffs to control the animation. Something that is impossible unless you have like the Cloners & Effectors script for AE."
- Users review from Reddit.
Cavalry, first released in 2019, focuses on 2D motion graphics, is also good at data visualization, character animations, FUI, and much more. As a nova in animation software, Cavalry is friendly for armature with a nitty interface and straightforward workflow. For instance, you can simply double-click on the keyframe node to adjust the properties. With features like deformation, voxelising shapes, data-driven animation, and image-based distributions, this procedural-based tool takes a huge step forward in the significant improvements of the 2D animation feature.
If your project doesn't involve many 3D animations, Cavalry is absolutely a better alternative to After Effects. Incidentally, you are even enabled to import .csv files or collaborate in Google Sheets and drive your content with external data to visualize the information.
Its killer features:
Control the animation of multiple elements in batch
Boast a pro-level graph editor with features like looping and keyframe alignment
Straightforward UI for making 2D animation with the minimal effort
Pros:
Beginner-friendly
Real-time playback
Cons:
Too basic to make advanced animation effects
Cavalry VS After Effects
Cavalry wins in: Procedural Creation, Data Visualization, Ease of Use, Team Work.
After Effects wins in: Visual effects, Third-Party Plugins, 2D/3D/VFX Compositing Work, Stability, Video Editing, Audio Editing, Motion Tracking, Title Generation.
Paid After Effects Alternative
6. Clara.io - Free After Effects Online Alternative
Price: Free (The paid version costs $10/month)
Ease of Use: ⭐⭐⭐⭐
The Official Site: https://clara.io/scenes
OS: Online
"Clara.io is easy to use, powerful 3D modeling and review tool, with comprehensive set of animation functions that does not require any additional on-site software installation."
- Users review from g2.com
Clara.io is a capable After Effects online alternative. It's a full-blown 3D modeling, animation, and rendering program. The paid account charges you $20 per month, but the free account already packs all features required by daily needs. As an online animation maker, Clara.io is easy to use but still offers 3D artists and newbies superb results.
It is highly compatible with a wide range of supported 3D formats including OBJ, FBX, STL, 3DS, and many more. Also, it responds extremely fast even on a less powerful machine thanks to the application of the V-Ray cloud engine. Moreover, it is supported by +100,000 free 3D models which give beginners lots of possibilities to quickly create 3D animation and modeling.
Its killer features:
Robust modeling tools, subdivision surfaces, UV editing, modifiers, and more
A huge 3D models and photorealistic material library
Support 30+ popular 3D files formats, including OBJ and Three.JS
Pros:
Easy to learn
Support mainstream browsers
Cons:
Easy to learn
Cause the browser crashes frequently
Clara.io VS After Effects
Clara.io wins in: Ease of Use, Low Requirement in Computer, 3D Modeling Rendering, and Creating.
After Effects wins in: 2D Animation Compositing, Motion Graphics, Rich Plugins, Title Generation, Rotoscoping, Motion Tracking, Simulation, VFX/Visual animation effects creation.
7. Motion 5 - Cheap After Effects Alternative for Mac
Price: $49.9/permanently usage
Ease of Use: ⭐⭐⭐⭐
Download Link: Apple official site
OS: Mac
"I switched from AE CS6 after Adobe went subscription, so I use Motion 5 now, and I find it a lot easier to use and the integration with FCP X templates makes it a far better choice for video editors that also do motion graphics."
- User review from creativecow.net.
Motion 5, developed by Apple Inc, is a motion graphic application runs on macOS. It has everything you need for creating 2D/3D animations, smooth transitions, 360° effects/titles, and realistic effects. Besides, the built-in real-time design engine offers you a live view without lagging. Motion is an easier and more efficient alternative to Adobe After Effects. However, it lacks the support of the raft of plugins and templates that AE has.
Regardless, this isn't a deal-breaker for average users as you can use either Apple Motion or After Effects to create or edit simple motion graphics and animation titles as well as composite 2D/3D FOR visual effects.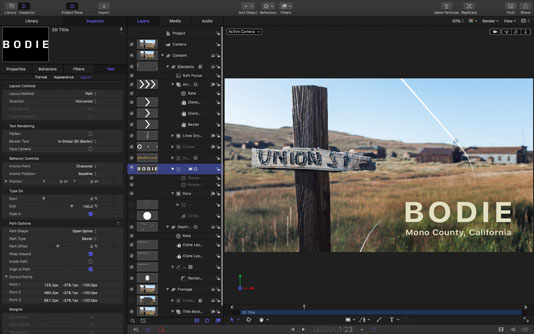 Its killer features:
Speedy and stable performance powered by the Metal engine
A powerful practical system with 200+ realistic assets
Support FXPlug and many other third-party plugins
Create natural-looking motion effects, such as Attractor and Repel
Pros:
User-friendly UI design
Real-time engine
Create native titles for Final Cut Pro
Cons:
Lack good tutorials
Limited compositing and animation features
Motion 5 VS After Effects
Motion 5 wins in: Ease of Use, Color Grading.
Adobe After Effects wins in: Third-Party Plugins, 2D Animation Compositing.
8. Hitfilm Pro - Easy Alternative to Adobe After Effects
"3d object import and compositing. PBR materials are pretty good and get better with each new Hitfilm Pro"
- Users review from g2.com.
FXhome Hitfilm is another easy alternative to After Effects. It's an all-in-one app with great features on 3D facilities modeling, motion graphics, and complex procedural animations, graphics compositing, color correction, and advanced video editing.
The many quick 3D presets offered by Hitfilm may limit your creativity, but it enables you to create bonfires, falling debris, Fire Explosion, and other amazing 3D effects with a few clicks of a mouse. In addition, its fast composition workflow allows you to watch the video without rendering. So, basically, you can use Hitfilm Pro as a quicker and easier replacement of After Effects.
Video Created with FXhome Hitfilm Pro
Its killer features:
Preset around 880 eye-catchy VFX effects
Create true 3D text with creative 3D geometry and dynamic effect
Support for importing, animating, and compositing 3D model
Pros:
Offer multiple particle engines
Build-in series of free tutorials
2D and 3D compositing
360-degree viewer
Cons:
Need a strong computer system to run Hitfilm smoothly
Hitfilm Pro VS After Effects
After Effects wins in: Multi-Cam Editor, Shape Layers, Respond and Render Speed, 2.5D animation creation and Composition, Title Generation.
Hitfilm Pro: Simulations, Lens Flares, Color Grading, VFX works, 3D composition, Ease of Use, Customization, Third-Party Plugins, Video Editing.
9. Vegas Post - Easy Alternative for After Effects
"Most effects on Vegas 16 are very simple ones used to give some more level of detail to the video. If you are looking for real complex effects, maybe Vegas isn't the software for you and After Effects is the one you're looking for stuff like editing in enhanced reality, coloring and masking."
- User review from Reddit.
Need a professional program like Adobe After Effects? VEGAS POST is for you. It's a collection of software including VEGAS PRO 17 (editing videos), Vegas Effects (creating and compositing animations and VFX), and VEGAS Image (processing image). A beginner or hobbyist can purchase Vegas Effects separately at the price of $399. You can get most things that are needed in visual effects and compositing, to name a few, 3D model rendering and effects, environment maps, versatile color-grading kits.
This easy alternative to After Effects gives you 800 staggering effects, filters, and presets that help you create eye-catching outcomes without having to install extra plugins. Other than that, you can enjoy a smooth playback even when copping with plenty of VFX works own a good deal to the support of threaded rendering.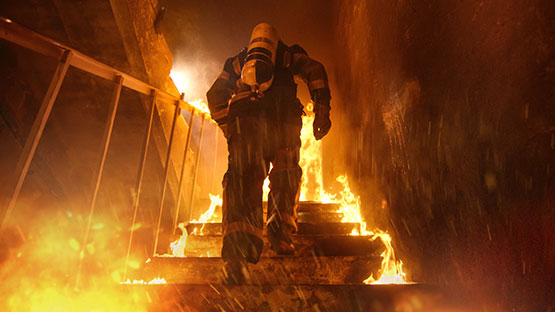 Its killer features:
Integrated a Video editor, an Effects editor, and an Image editor into one
Support for multi-layer compositing, 3D model rendering, and keyframe animation
Preset 800+ stunning filters and effects
Industry-standard color grading system
Automatic scene detection
Use advanced particle generators, texts & titling, 3D models in realistic 3D environments, lenses, and more
Pros:
Planar Motion Tracking
Advanced particle generators
Fast response
Cons:
High price tag
Steep learning curve
Vegas Post VS After Effects
Vegas Post Wins in: Color Correction, Video Editing, Quick Visual Effects Creation.
After Effects Wins in: Ease of Use, Motion Tracking, 2D/2.5D animations, Title Generation, Third-Party Plugins.
10. Cinema 4D - App Similar to After Effects for Windows, macOS, Linux (More Advanced)
"This is an amazing tool for an imaginary person, if you can't think good enough for a scene this application gives you zero help. But on the other hand with Cinema 4D you can make the most good-looking scenes for any use you want."
- User review from g2.com.
Cinema 4D, developed by Maxon, is all about creating 3D graphics for Motion and Visual Graphics. It usually collaborates with Adobe After Effects to build breathtaking 3D animations and models for Hollywood films. Certainly, it can be used standalone as an industry-level 3D modeling, painting, rendering, and animation program. Cinema 4D responds extremely fast and boasts robust rendering plugins. If all you need is about 3D-based things, Cinema 4D is a better alternative to Adobe After Effects.
3D Animation Created by Cinema 4D
Its killer features
Various modeling modes: parametric and volume modeling, and more
Developed with 5 modes for editing animation tracks on objects or tags
Can integrate with Adobe After Effects
Pros:
3D modeling, animation, and simulation
Cons:
Unintuitive export and render windows
The UV mapping feature is hard to use
Cinema 4D VS After Effects
After Effects wins in almost everything but 3D modeling.
11. Nuke - Node-based Adobe Effects Alternative
"Nuke is a solid piece of software, it is reliable, stable (on Linux I rarely if ever experience a crash for example), and more importantly, it is production proven at the highest level."
- User review from Reddit.
Nuke is an industry-standard composition program before anything else. Being one of the most advanced node-based compositing tools, it can cope with 1023 channels in a single stream. Therefore, it is widely regarded as an advanced substitution of After Effects for the compositing jobs required by high-end films or TV shows. It is considerably more expensive and has a steeper learning curve, higher requirements on the PC built.
Rotoscoping is easier made and more adjustable in Nuke. The support of third-party plugins allows you to realize endless possibilities when creating VFX effects. Be that as it may, After Effects is still unreplaceable if you are working with multiple cameras, and videos with different durations, resolutions, and formats.
Nuke Visual Effects Compositing
Its killer features
Node-based compositing with 200 creative nodes
Composite images with different opacity, color, and camera-relative depth
Full support for HDRI format
Machine learning toolset
Pros:
Industry-level composting tools
Cons:
High price tag
Difficult to add third-party plugins
Nuke VS After Effects
Nuke wins in: Node-based Compositing, 4K Video Compositing, 3D/VFX Compositing, Team Work, Efficiency.
After Effects wins in: Motion Graphics, Animation, Templates Creation, Title Generation, Ease of Use.
FAQ
Is After Effects free or there a free version
No, in short. After Effects is a paid-for motion graphics, visual effects, and compositing software that offers no free version.
However, you can get a free trial for 7 days with the capability to use all features. To use After Effect for free, come cover to its official site, click on Free trial to download the .exe file, and have it installed on your PC or Mac.
Can you buy After Effects permanently
There is no access to buy Adobe After Effects permanently from Adobe since 2013. Though you can still purchase some older versions of AE from eBay and many commercial sites without having to pay the subscription fee every month ($19.9/month for the first year, and $29.99/month for next years), more bugs and crashes you would experience. And as such, it's worth going to dip your toes in some cheaper alternative before subscribing After Effects.
What is better than Adobe After Effects
It's up to your target, personal preferences, machines, source files, skill level, and many other factors. For instance, Node-based visual effects and compositing programs like Fusion, Nuke, and Natron are far more efficient than layer-based Adobe After Effects to process complex composites entailing a vast number of layers. Hitfilm Pro and Vegas Effects have numerous ready-made options for creating spectacular VFX effects, they are better substitutes for After Effects if the project you are working on is time-sensitive. As for 3D rendering or modeling, even the free Blender can easily rival AE.
Which version of After Effects is the best
Adobe After Effects 17.5 released on Oct 2020 is currently the best version with lots of bugs fixed and new/improvement features including Tapered shape strokes, concentric shape repeaters, support of ProRes RAW files, etc.