You can easily get your favorite song in MP3 for its universal support in the mainstream music market. But to set it as a ringtone is another thing because M4R is the only format for iPhone ringtone. Therefore, you need to use an MP3 to M4R converter to change your MP3 audio file to M4R. In this post, we rounded up best ways to convert MP3 to M4R ringtone with and without iTunes. Check them now.
How to Convert MP3 to M4R with VideoProc Converter [Easy and Lossless]
VideoProc Converter is a piece of feature-rich video editing software with a fast video converter baked in. It empowers all users to compress, convert, and transcode audio and video files without any hassle. To provide the best UX for you, VideoProc Converter boosts the conversion speed up to 47 times real-time faster and output high quality files. Although it sounds like a complicated program, it works in the simplest way so that you turn an MP3 to M4R file in just 3 steps.
VideoProc Converter - Best MP3 to M4R Converter on Mac and Windows
Compatible with 370+ formats, including but not limited to MP3, M4R, M4A, FLAC, etc.
Batch conversion for making multiple M4R ringtones at a time.
Hardware accelerated to convert MP3 to M4R in a faster manner.
Lossless output audio for you to make perfect iPhone ringtones.
All-in-one video processing: download, convert, edit 4K videos, etc.
Step 1. Add an MP3 file to VideoProc Converter.
Launch VideoProc Converter. Click "Video" > "+Music", and select an MP3 filed from your computer. And in VideoProc Converter, you are enabled to import multiple audio files to convert them to M4R in bulk.
Step 2. Set the output format to M4R.
Go to the "Music" tab on the lower side, and click "M4R".
Optional: Double-click the M4R icon to customize the output quality, sample rate, bitrate, etc.
Step 3. Export the M4R file.
Choose an output folder, and hit "RUN" to start the conversion. Ultimately, you'll get an M4R file in seconds.
Also Read: How to Make an M4R Ringtone from a Video >>
Bonus Tips: Set the M4R File to Your iPhone Ringtone
A Normal iPhone ringtone is limited to 40 seconds and lasts for 20 seconds during an incoming call. It is most likely that your favorite chorus part may not have the chance to show in the world during an incoming call. The best way is to extract the desired part and set it as the ringtone with the assistance of DearMob iPhone Manager, a safe and powerful iOS file manager with a one-click ringtone creator.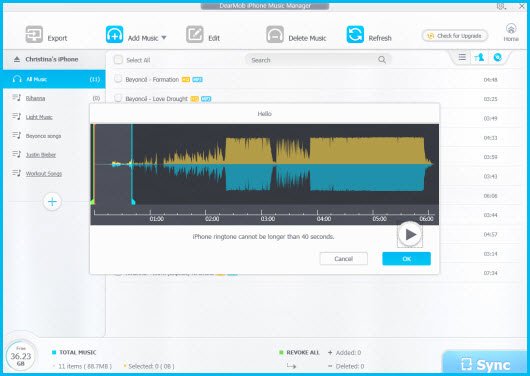 1. Launch this desktop program and connect your iPhone to the computer via a USB cable.
2. Add the M4R file to it.
3. Click on the Make Ringtone option in the left bar, and select a maximal 40 seconds episode of the music.
4. Hit the Sync button to send it to your iPhone.
5. Open your iPhone, and head to Settings > Sounds & Haptics > Ringtone > Tap on the newly transferred audio.
How to Convert MP3 to M4R in iTunes
If you are stick to the native method to convert MP3 to M4R, we'll show you how to do it in iTunes. But note that iTunes does not convert MP3 to M4R ringtone directly. It is only able to convert MP3 to M4A. The rest moves need to be completed manually.
Step 1. Download and install iTunes to your computer if you are using Windows.
Step 2. Launch iTunes > add the MP3 file to iTunes.
Step 3. Find the audio file you recently added > right-click on it and select Get Info in the pop-up tab.
Step 4. Select the Options tab in the new window > set the start and end time for your new ringtone > click OK.
Step 5. Click File in the top menu toolbar > choose the Convert tab in the drop-down list > choose Create AAC Version tab.
Step 7. Right-click on the file you just created > Show in Windows Explorer (Windows) / Show in Finder (Mac).
Step 7. Rename the extension file name to .m4r.
Step 8. Connect your iPhone to iTunes via a USB cable > device > Manually Manage Videos.
Step 9. Click Tones in the left bottom area > add the created .m4r audio file to it > iPhone ringtone added.
How to Convert MP3 to M4R Online
If you don't want to download and install any software on your computer, online MP3 to M4R converters are able to serve you in the easiest way. You can change MP3 to M4R without knowledge of codecs, formats, or file extensions. Here we take M4ROnline as an example.
Step 1. Go to the website of M4ROnline.
Step 2. Upload an MP3 file from your computer.
Step 3. Hit Upload and wait for it to convert the audio.
Step 4. Download the converted M4R file.
Note:
1. It takes more time to upload a file than the decent desktop software VideoProc Converter.
2. It lacks advanced settings to customize audio codec options.

If you prefer offline solutions, you can resort to these free audio converters for Windows and Mac.
M4R iPhone Ringtone Facts Explained
What is M4R
M4R is a propriety format created for iPhone ringtones by Apple. It is highly compressed but retains the best quality. Once you purchase a song in M4R format from iTunes, you'll see it transferred to your iPhone via auto-sync, and then you can customize it to the ringtone. If the M4R file is not copy-protected, it can be played in most media players.
M4R vs MP3
M4R (AAC) and MP3 (MP3) are both lossy audio formats but encoded in different ways. AAC (Advanced Audio Coding) is the default codec for audio files with all iOS devices. And it generally maintains better sound quality than MP3 at the same bitrate.
Hence, only a tool that keeps the high quality of M4R after the conversion can be nominated as the best MP3 to M4R converter. And VideoProc Converter is definitely the best one that performs excellently in the whole process with a lossless output. Download and use VideoProc Converter to make a ringtone from your favorite MP3 music now!