Whether you wish to play a DVD bought from Amazon.com (USA) on a Canada DVD player, or want to get the DVD collection into Plex, or need to back up the favorite TV series DVDs on Mac, you are going to need to rip the DVD. Unfortunately, ripping protected DVDs on Mac can be hard. Why?
To prevent people from distributing or duplicating commercial DVDs illegally, publishers of commercial DVDs often embed one or several encryption schemes into the discs. Despite the fact that the encryption strength of different encryption algorithms (CSS, RCE, UOPs, Sony ARccOS, Disney-X project, etc.) vary a lot, 80% of DVD rippers in the market are useless to bypass any of those anti-piracy techs. Therefore, when applying regular DVD rippers to handle copy-protected DVDs, most tools will refuse to read the movie DVD at the very start and a few others will stop at half.
A handful of notable DVD rippers, such as DVD Decrypter and WinX DVD Ripper Platinum, include the capability to handle protected DVDs. However, since they are not for MacOS, you cannot rely on them to rip protected DVDs on Mac.
No worry, however, as we have found out 2 reliable and fast methods to rip protected DVDs on Mac. Keep reading to check the easy-to-follow steps.
Way 1: Rip Protected DVD on Mac with VideoProc Converter [Fast and Easy]
VideoProc Converter, developed by Digiarty, is a small but powerful DVD ripper that's capable of ripping protected DVDs on Mac. It combines the best part of its two famous brethren, WinX DVD Ripper and WinX Video Converter, giving a one-click way to remove copy protection from DVDs of any kind, including movie DVDs, TV shows DVDs, and workout DVDs on Mac. A blazing fast conversion speed is another party piece of this decent piece of software, about 2 minutes to rip a protected Sony movie DVD on your MacOS computer.
VideoProc Converter - Your Go-To Option to Rip Copy Protected DVDs on Mac
Remove all the protection schemes of DVDs (CSS, RCE, Disney 99-title DVDs, Sony ARccOS DVDs, etc.)
Rip protected DVDs to 370+formats, including MP4, FLV, MKV, VIDEO_TS, ISO, MPEG-4, and more.
6 backup modes to digitize your DVD collection with the original picture quality.
Thanks to the easy UI and the support of full GPU acceleration tech, everything gets done in minutes.
Give full control over the video quality, the resolution, the frame rate, the chapters, the subtitle track, and more.
Step 1: Select the Protected DVD.
Insert the DVD on the computer optical drive. Install and download VideoProc Converter on the Mac. Next, you launch it up. Press DVD and hit Disc. Choose the protected DVD you just inserted, hit Done to proceed.
Step 2: Choose the Output Format.
Select the desired output format from the options given by the Target Format panel. VideoProc Converter allows you to convert protected DVD to MP4, MKV, FLV, MOV, AVI, and 370+ other media formats.
Step 3. Start to Rip the Protected DVD on Mac.
Hit Browse to select a proper output file folder. Press Run.
Way 2: Rip Protected DVD on Mac with HandBrake [Free]
HandBrake is a piece of cross-platform and open-source freeware. It's widely used for converting videos from a digital format (such as FLV and AVI) or disc format (such as DVD and ISO) to another well-known MP4, MKV, or WBEM. Thus, you might wonder, can HandBrake rip copy-protected DVDs on Mac or how do I rip a protected DVD with HandBrake Mac.
Well, the tool doesn't support rip copy-protected DVDs natively. So, when importing a protected DVD with HandBrake, you'll see the "No valid source or titles found" or similar error notices. Fortunately, by working with libdvdcss, a free software library developed by VLAN for accessing and descrambling the CSS-protected content in DVD, HandBrake can work for ripping CSS-protected DVDs on Mac.
Step 1: Install HandBrake.
Go to the official site of HandBrake to download and install the latest version of HandBrake on MacOS.
If you open up HandBrake right now, the Mac might remind you, "HandBrake" can't be opened because it is from an unidentified developer. If you see this notice, press OK to exist.
Press System Preference to launch up the Security & Privacy panel. Hit Open Anyway, and then press the Next button on the shown up new panel.
Step 2: Install Homebrew.
Press CMB + SPACE, enter Terminal to start up Terminal. Alternatively, you can go to Finder > Application > Utility to locate Terminal, and click on this to open the Terminal application. Herein, enter the below Homebrew install command line, and then press RETURN.
MacOS Mojave or later: /bin/bash -c "$(curl -fsSL https://raw.githubusercontent.com/Homebrew/install/master/install.sh)"
MacOS High Sierra or earlier: /usr/bin/ruby -e "$(curl -fsSL https://raw.githubusercontent.com/Homebrew/install/master/install)"
Note: Some users might come across a pop-up panel that asks your permission to install the developer tools. In this case, press Enter > Agree. Hit Done once the process finishes.
Enter the administrator password when the Terminal application reminds you to enter your password for proceeding. Your trusty Mac computer now starts to install Homebrew. This may take minutes.
Input brew help when you are reminded to run 'brew help' to get started. Press RETURN to proceed.
Input brew doctor when you are reminded to make a choice for further help. Press RETURN to proceed.
Step 3: Install the Libdvdcss Library.
Enter command line brew install libdvdcss on the Terminal window, press RETURN. Now, you should have libdvdcss successfully installed on your Mac.
Step 4: Select the Target Protected DVD.
Insert the protected movie DVD onto the computer. Launch up HandBrake. Select the right DVD drive on the pop-up sidebar, and choose Open. HandBrake starts to scan the titles of the chosen DVD.
Step 5: Select the Wanted Titles.
HandBrake, by default, will choose the main title of the protected movie DVD. Suppose you want to rip one or several specific chapters, press the drop-down button of Title, and select the needed ones.
Step 6: Choose the Picture Quality.
On the right side of the HandBrake DVD ripper, there are several presets. Choose the one that works best for you. I myself usually select Very Fast 480p30 to rip US DVDs and select Very Fast 476p25 for EU DVDs.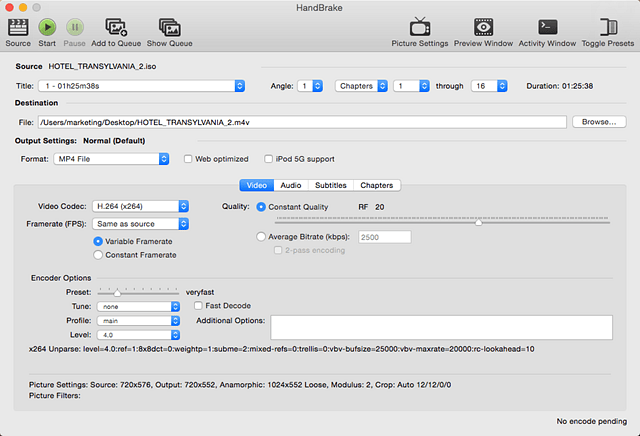 Step 7: Rip Protected DVD on Mac.
Assign a destination folder to hold the output DVD copy file. After that, click on the green Start Encode button underneath the top menu bar. HandBrake now starts to rip protected DVD on your Mac.
Disclaimer: Digiarty Software does not advocate ripping protected DVDs for any commercial purpose and suggests referring to the DVD copyright laws in your countries before doing so.