Although iTunes Movies app is replaced by the Apple TV app after macOS Catalina, it still holds every video you bought or rented on Windows OS or previous macOS. However, Apple locks down the media content with DRM and does not let you play iTunes movies on other operating systems. To watch such a video on your non-Apple TV, tablet, and smartphone, or make a DVD copy, converting iTunes movies to MP4 is taken as the most effective method.
Apple employs M4V to contain videos files that are rented or purchased from the iTunes movie store with DRM restrictions. So how to convert iTunes Movies to MP4 involves M4V to MP4 conversion and DRM removal.
Anyway, we'll get you covered. In this post, we'll show you the best video converter to convert M4V iTunes movies to MP4 no matter whether it's DRM protected or not. Let's get started.
1. Convert iTunes Movies to MP4 without DRM
The video converter software we are going to use is VideoProc Converter as it can convert M4V to MP4 on all Mac and Windows computers. It has 100+ MP4 preset profiles for TV, DVD, Web, Android, Sony, and Microsoft devices. In addition to converting iTunes M4V to MP4, it supports 470+ formats (MOV, MKV, AVI, WebM, HEVC, H.264, MPEG2, etc.) to meet all your needs.
And notably, VideoProc Converter takes advantage of GPUs to speed up the conversion from iTunes Movies to MP4 by 47x real-time faster while maintaining the original quality. If necessary, you can cut, merge, crop, add subtitles, or apply other simple edits to your iTunes videos in the same program.
Now download VideoProc Converter and see how to use it to convert iTunes DRM-free movies to MP4 on Windows and Mac.
Step 1. Get a video downloaded from iTunes Movies. Right-click on the video and choose Show in Finder on Mac or Show in File Explorer.
Step 2. Open VideoProc Converter. Click "Video", then drag the iTunes movie from Finder or File Explore to its interface.
Step 3. Click "Video" at the bottom and choose "MP4 H.264" or "MP4 HEVC".
Step 4. Enable hardware acceleration, set the output folder, and hit the "RUN" to start converting M4V iTunes Movies to MP4.
2. Convert iTunes Movies to MP4 by Recording
If the purchased or rented videos are protected and can't be loaded to VideoProc Converter, you can try another method — recording the protected movies using its built-in screen recording feature.
This HD screen recorder is powerful to record large long movies without lagging and does not harm the original quality. Keeping this at your hand, you can convert any Apple TV content or iTunes movies to MP4 for free and enjoy them anywhere anytime.
Now free download and install VideoProc Converter and see how to use it to convert iTunes to MP4 without losing quality.
Step 1. Open VideoProc Converter and choose "Recorder" on its homepage.
Step 2. Open "Settings" in the top right corner. Make sure the quality of recordings is set to high and the format is MP4. Choose the "Screen" mode in VideoProc Converter.
Step 3. Launch iTunes and play the film you bought on iTunes in full-screen mode. Hit the red button in VideoProc Converter, and it will start recording the iTunes movie in 5 seconds.
Step 4. Play the video from the beginning when the recording starts. When the movie is over, stop VideoProc Converter, and it will save an MP4 recording for the DRM-protected movie on your computer.
3. Convert iTunes Movies to MP4 with DearMob iPhone Manager
Apple music, movies, and TV shows you bought on iTunes Movies are protected by FairPlay, a digital rights management (DRM) technology developed by Apple to lock down its media content from other media players and non-Apple devices. In such a case, a common video format converter cannot convert DRM-ed iTunes movies to MP4.
So here comes a reliable iPhone file management tool – DearMob iPhone Manager. It has cutting-edge techniques to remove DRM from iTunes movies, TV shows, and music, and save them in MP4 and MP3 automatically.
Make sure you've got the following things done before converting DRM-ed iTunes movies to MP4 in DearMob :
Sign in with the same Apple ID to the Apple TV app (also called Videos app in some regions) on iPhone and iTunes for Windows (or Apple TV on Mac after Catalina).
Purchase and download the movies on both Apple TV on iPhone and iTunes on Windows (Apple TV on Mac).
Step 1. Download and install DearMob iPhone Manager on your computer.
Step 2. Open DearMob iPhone Manager. Connect your iPhone to the computer via USB or Wi-Fi and choose "Trust this computer". Click "Video & Movie" on the main interface of DearMob.
Step 3. Browse movies that you bought on iTunes. Movies with DRM will be highlighted in red. Now click on the file(s) that you want to convert.
Step 4. Click "Export", and you'll see a window pop up asking you to decode the encrypted movie or not. Hit the "Decode" button. Finally, DearMob exports iTunes M4V movie(s) in MP4 that can be put anywhere without DRM restrictions.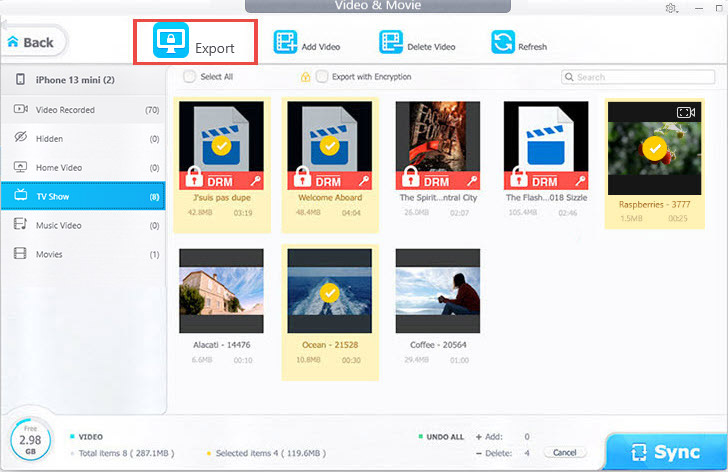 FAQ
Can VLC convert iTunes movies?
VLC cannot convert iTunes movies with DRM, but all movies or TV shows you bought or rented on iTunes are locked down by the DRM scheme.
Can HandBrake convert iTunes movies to MP4?
HandBrake does not remove iTunes movies DRM and transcode it MP4 like VLC. Users are only allowed to convert DRM-free M4V to MP4 in HandBrake.
Does iTunes have a video converter?
No. The only trick you can use is to convert videos to audio formats like AAC, MP3, WAV, and AIFF.
Disclaimer: Removing iTunes DRM is not recommended. Please check the copyright law in your country and remove iTunes Movies DRM for fair use.