Are you looking for how to download videos from websites? We all loved to be entertained by videos, regardless they are short TikTok videos, the most-viewed YouTube videos, or the latest released movies. However, we don't always have access to the network or the video sharing sites. That's why many of us want to download videos from websites for viewing offline. And luckily, this is not rocket science. In this post, we'll show you how to download videos from any website for free.
Best Way to Download Any Video from Any Website
Let's start with the best video grabber in the market for downloading videos from websites - VideoProc Converter. It lets you download high quality videos from 1000+ websites including YouTube, TikTok, Dailymotion, Vimeo, Twitch, Pinterest, Facebook, and MySpace. Batch online video downloading is supported as well. Thus, you can download (all or selected) videos in multiple playlists and channels within a simple click.
Before downloading, you can choose the quality (4K, 1080P, etc.), format (MP4, FLV, WebM, etc.), subtitle, and language. Besides, VideoProc Converter lets you set a proxy when downloading video from web page, which is pretty helpful for ripping region-restricted video files from websites. It offers a raft of useful extra tools, for example, an HD screen recorder for recording protected videos and a video trimmer for deleting specific segment(s) from an online video.
How to Download Videos from Websites in 3 Easy Steps
Step 1. Download and install VideoProc Converter. Hit Downloader to open this video downloader.
Step 2. Hit Add Video, paste the URL(s) of the video(s) into the program and click on Analyze. Choose the needed downloading option(s) and then hit Download Selected Videos.
Step 3. Hit Download Now to start downloading these videos from websites.
21 Other Ways to Download Videos from Websites
Using 4K Video Downloader
4K Video Downloader is a cross-platform program that can help you download videos from any website. With it, you can grab videos in MP4, MKV, and FLV formats from YouTube, Rumble Video, Dailymotion, Facebook, and plenty of other major video sharing websites. What feature separates 4K Video Downloader from its competitors is its capability to download 4K UHD videos. Plus, it can auto-download the latest videos released by the YouTube channels you've subscribed to.
Using JDownloader
JDownloader, firstly released in 2011, is one of the most well-known video downloaders that's capable of ripping videos from website for free. It's an open-source program available for Windows, Mac, and Linux. Unlike most other tools that require you to provide the specific link of the target video, JDownloader can detect and grab all the downloadable videos contained by a page.
Using YouTube-DL
YouTube-DL is a command-line program used for downloading videos from websites. It works on Windows, Mac, and Linux. There is no limit on watermark, ads, file size, video format, or video resolution. However, it doesn't come with a regular UI which might take a beginner a steep learning curve to master how to download a video from a web page.
Using Freemake Video Downloader
Freemake Video Downloader is an easy yet powerful program for Windows users to download a video off a website. It can download videos from 10000 sites including YouTube and Facebook and save the videos to MP4, AVI, FLV, or other popular file formats. However, some anti-virus recognized Freemake Video Downloader as malware, so it might not be a 100% safe and secure tool as it claims to be.
Using 5KPlayer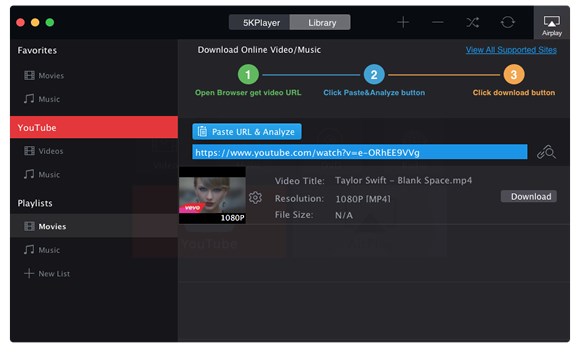 5Kplayer is most known as a reliable media player on Windows and Mac computers which can also work as an all-in-one video grabber to rip video from websites. With it, you can download 720P, 1080P, 4K, and 8K videos from 300+ websites, including Facebook, Dailymotion, Instagram, and YouTube. The interface of 5Klayer is pretty clear and straightforward which ensures everything could get done without hassles.
Using VLC media player
VLC media player is one of the most famous multiple media player which can play videos of any types on Windows, Mac, and Linux operating system. It can also help you to download any videos from the internet without paying a dime. However, it's not always useful. It might fail to download the videos protected by secure encryption techniques.
Using YTB Video Downloader
Don't be fooled by its name, YTB Video Downloader is not only able to download YouTube videos, but also lets you download videos from websites like TikTok, Vimeo, Bing, Facebook, Dailymotion, and Yahoo. What's worth noting is you have the options to choose the target video quality, but the maximum video resolution supported by YTB Video Downloader is HD. Therefore, it's not a perfect tool for people who want to rip a video from website for watching on TVs or other devices with large monitors.
Using VidPaw
VidPaw is one of the easiest online tools that can help you download videos from any website. We recommend it if you are looking for a hassle-free option that requires zero effects on your part for efficiently downloading 4K and HD videos from YouTube, Facebook, Twitter, and other major video sharing sites. The thing that disappoints us a little is VidPaw only lets its users download a video in the MP4 format.
Using ClipGrab
ClipGrab is a beginner-friendly video converter and downloader that can be used for free on Windows, Mac, and Linux. To speak of its ability to download videos from websites, it supports YouTube, Vimeo, and a number of other popular video hosting sites. In addition, the video downloaded from the internet can be saved with your desired resolution (360P, 720P, and 1080P).
Using CocoCut
CocoCut is a free and fast browser extension for Chrome and Edge. It allows you to download videos from websites in Google Chrome and other popular browsers. What surprises me is its high compatibility, letting users download videos from websites and save them in MP4, FLV, 3GP, AVI, MOV, or tons of other formats without installing additional software or plugins. For some videos that cannot be downloaded for watching offline, you can rip them by by recording the screen.
Using Video Downloader Plus
Video Downloader Plus offered by FBDOWN is a Chrome extension used for fast downloading videos from the internet. It can detect and save the MP4/WMV/3GP videos from the links of YouTube, Vimeo, Dailymotion, Facebook, or any other video streaming sites. Better yet, there is no worry about ads or limits.
Using Video Downloader Professional
For those who want to download videos from any website in Google Chrome, Video Downloader Professional offers a one-click solution. You simply need to enable this extension on your browser, the app will automatically identify the videos playing on the current web page. Once it finished the analysis, you can select the desired quality and format to start the downloading process.
Using Video DownloadHelper
It would be remiss of us if we didn't put Video DownloadHelper in this list. This handy extension lets you download videos from any website in Google Chrome and Firefox browsers, giving everything you need to download videos of any type (including the M3U8 live stream video) from the internet. It comes with many useful additional features to optimize the downloading process, for example, it lets you hide the ads videos from the detected video list and convert the downloaded video to another format.
Using Keepvid
Keepvid is a handy online application that allows you to download videos from websites without installing third-party software or extensions. From our test, Keepvid is useless for grabbing site-protected video, but there aren't any problems to extract videos from Vimeo and most video sharing or hosting platforms. The real downside of this online video downloader lies in its pop-up ads and misleading download button which might induce you to install many unnecessary applications.
Using Kapwing
Kapwing didn't hype itself as a capable online video recorder, but it does have the ability to download videos from websites. From YouTube to Dailymotion and Veoh, this easy-to-use online tool can fast identify the videos playing on the webpage and lets you download the video within a few simple clicks. The outcome generated by a free account of Kapwing is with a watermark. However, you can easily get rid of the logo by loging in Kapwing with an email or a Social Media account. Plus, it provides you with several editing toolkits, with which you can download part(s) of a video from a website to your hard drive.
Using SaveTheVideo
SaveTheVideo is a novice-friendly online application to download video from TikTok, Likee, Facebook, Odnoklassniki, Instagram, and literally any video content platform available on the internet. Moreover, it lets you select between different video formats and resolutions for downloading. Ads intrusion is the only thing we don't like about SaveTheVideo.
Using FLVTO
Don't be fooled by the name of FLVTO. Downloading online videos as FLV files is not its sole feature. This amazing piece of online tool supports converting and downloading MP4, AVI, and AVI HD video from the internet. The ads on the downloading page might be a little disturbing. However, it's still a good option since it doesn't put any constriction on video size or length.
Using VIDO
VIDO is a great piece of online video downloader program that can download videos from 800+ websites like Twitter, Instagram, YouTube, and Tumblr. It's simple to use, ad-free, and flexible as far as resolution and format options are concerned. If you need something to download 4K videos from the internet for free without installing a third-party app, VIDO is worth trying out.
Using VDownloader
VDownloader is one of the best tools for downloading videos from the internet, and it takes zero learning curve to use. It supports downloading HD, 4K, and even 8K videos from Facebook, Twitch, YouTube, Ted, and tons of more video-sharing websites. The best thing is, both Mac and Windows users can access all the nifty features of VDownloader for free.
Using QDownloader
QDownloader is a reliable and safe online tool that offers a copy & paste way to download any video from any website. It supports extracting videos from YouTube, Instagram, Facebook, and all other major video sharing and hosting platforms. With it, you can download the videos in 360P, 720P, 1080P, and a few more resolutions. In this way, you can entertain yourself with the best viewing experience when watching the downloaded videos offline.
Using aTubeCatcher
aTubeCatcher can identify and download videos on 1000+ websites including Vimeo, Facebook, and Spike. Thanks to a wide range of output format options, you can use this decent piece of Web video downloader to save online videos in AVI, MP4, WMV, or any other desired format. Unfortunately, aTubeCatcher works only for Windows, leaving Mac users out in the cold.