Review of Top 10 Desktop/Laptop Computers for Video Editing
Whether you are a Vlogger or YouTuber, you are bound to have felt the requirement of guidance regarding the editing of videos. After all, the footages shot on camera often come off as shaky and need to be properly edited to provide the target audience with crisp yet interesting content. To process these videos, and especially for high-resolution 4K videos, much computer source will be consumed. Therefore, we may often encounter lags, stuttering when loading, editing, rendering your footages. Herein lies the importance of investing in the best PC for video editing and that is exactly what we are going to talk about today.
To choose the best desktop or laptop PC, we should take 5 factors into account:CPU, Storage, RAM, GPU, Motherboard and Power. Wonder how they influence your video editing experience?
CPU: If you are a professional video editor, choose a strong CPU is necessary. The number of CPU core affects video input and output speed quite much. 4-core CPU allows the process of outputting an H.264 video in 1080P 5X faster than using a single-core CPU.
SSD: Make sure it comes with SSD hard drive. Editing videos involves a large amount of reading and writing tasks, and that's what SSD can help. It allows a quick file transfer and backup. Besides, SSD brings you a quiet editing environment, no noise or shakiness.
RAM: Rendering, adding special after effect relies high on RAM space, that's why RAM matters. From my experience, the processing efficiency improves the greatest when updating RAM from 16GB to 32GB.
GPU: A robust GPU is essential if you are processing high definition videos, and need smooth playback experience.
Motherboard and Power: They are not priced high, but what you should always bear in mind is that stability is the key.
Strapped for time? Click one of the links below to jump straight to your most interested part.
Part 1 What is the Minimum System Requirement for Video Editing?
The minimum system requirement depends on which type of video you are editing. Editing high definition videos like 4K or 8K often ask for better hardware and software than processing common videos. Check the below table for quick reference.
• For Basic Video Editing
| | |
| --- | --- |
| Computer Hardware | Minimum Requierment |
| CPU | 6-Core CPU |
| GPU | GTX 1050 or GTX 1050 Ti |
| RAM | 8 GB minimum |
| Storage | 256 GB hard drive |
| OS | Windows 7, Linux or Mac OS X |
• For 4K Video Editing
Part 2: Top 5 Desktop PC for Video Editing
Microsoft Surface Studio 2 – 28 inch ($3499)
This touch-sensitive device can make video editing seem like child's play as you get to drag and drop the video clips. You can use this best PC for video editing along with its pen or by flipping the screen to suit your specific usage. GeForce GTX 1070 paves the path for breath-taking graphics spread over the 28-inch PixelSense display.
Pros
High contrast ratio and stellar display.
Cons
Constructed with pretty dated parts.
Apple iMac Pro – 27 inch ($4999)
This powerful Apple PC brings sublime build quality to the table which makes it a top pick for video editing chores. The dual backing of AMD Verga 64 graphics card and Intel Xeon processor can help you edit high quality videos on the fly. It comes with ample connection ports such as one SDXC card slot, one 3.5mm headphone jack, four Thunderbolt 3 USB-C ports, four full-size USB 3.0 ports, and one 10Gb Ethernet slot.
Pros
An extremely configurable device that can be adjusted as per your needs.
Cons
Pretty expensive model.
Dell XPS 27 – 27 inch ($2299)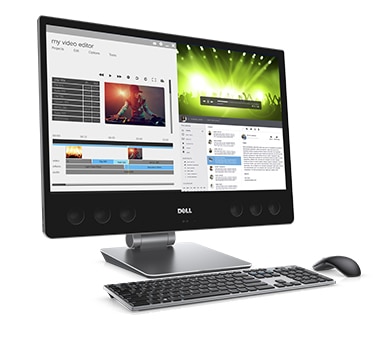 This all-in-one desktop PC packs in an Intel Core i7-6700 3.4GHz Processor and 6GB DDR4-2133 Memory which adds up to its speed and performance efficiency. You can also store all your video editing data safely in its 2 TB SATA HDD.
Pros
Comes pre-loaded with Windows 10 OS and has an extremely user friendly interface.
Cons
The glossy screen acts as a fingerprint magnet.
Mac Mini 2018 ($799-1099)
This brilliantly designed computer makes use of 64GB RAM and the hexa-core Intel Coffee Lake desktop processor which enhances its performance to a great extent. It also brings in mammoth speed in the department of HEVC encoding and delights users with ample connectivity options.
Pros
Supports 4K display which makes it easy to proceed with high-end video editing chores.
Cons
Has limited upgradability.
Apple iMac With Retina Display – 27 inch($1799)
The stunning design of this Apple PC joins hands with the seventh-generation 3.5GHz dual-core Intel Core i5 processor to provide users with the best of both worlds. The powerful Radeon Pro 500 series graphics can present users with a visual extravaganza every time they switch on this best PC for video editing.
Pros
Retina display brings along 500nits of brightness to the table.
Cons
Lack the touch screen option.
Part 3: Top 5 Laptop PC for Video Editing
MacBook Pro – 15.4 inch ($1299 - 2799)
This powerhouse comes with a highly efficient Radeon Pro 460 GPU, Intel Core i7 CPU and a more vibrant display which makes it one of the best laptops for video editing. Weighing at just 4pounds, this laptop can be carried around easily to meet your video editing needs on the go
Pros
Has a long battery life of 10 hours and a sharp retina display.
Cons
Features just Thunderbolt 3 ports which might not be compatible with all your devices.
Dell XPS 15 – 17.3 inch ($3118)
This laptop PC stands out from its peers with its striking 4K OLED display which can help you enjoy detailed contrast and dramatic colors. Its carbon fiber and aluminum construction serve as the ideal choice for tech junkies. XPS 15 also comes fitted with adequate ports and an SD card reader which can open up newer possibilities for its users.
Pros
Has large bottom-mounted speakers that can easily fill up a large-sized room.
Cons
Battery life is below average.
Alienware Area-51m – 17.3 inch ($3804)
The latest RTX 2080 GPU joins hands with an overclockable 9th Gen Core i9 processor to make the Alienware Area-51m best suited for transcoding 4K video to 1080p in a matter of just few seconds. Its 17.3-inch anti-glare panel diminishes eye stress even after using the device for hours.
Pros
Efficient SSDs ensuring super-fast boot times.
Cons
Extremely expensive.
Microsoft Surface Book 2 – 15.6 inch ($2303)
You can fully bank on this best laptop for video editing which comes with a discrete NVIDIA GTX 1060 GPU, powerful 8th Gen Core i7 CPU and an extremely vibrant 3240 x 2160 display. The device battery lasts for about 12 hours following a single charge so that you don't have to worry about losing data.
Pros
Efficient SSDs ensuring super-fast boot times.
Cons
Extremely expensive.
HP Spectre x360 – 15.6 inch ($1459)
You can now make the most out of Windows 10 with the finger-touch navigation of this best PC built for video editing. Its 4K resolution ranks high in terms of color and clarity while Intel Turbo Boost Technology 2.0 keeps your back with that extra boost of power on those occasions when you need it the most.
Pros
Excellent battery life and highly intuitive keyboard.
Cons
Display not adequately bright.
But, you don't have to buy an expensive computer for video editing
Many people always thought that having a good computer is a must for smooth video editing. That is partly true. Some free video editing software will consume a lot of your computer resource; but on the contrary, some will make good use of them, and VideoProc comes out top with its full utilization of hardware (GPU) acceleration.
VideoProc can minimize the CPU use dramatically to guarantee stutter-free experience and up to 47x real-time faster video processing. More brilliantly, it works with virtually any common computers, which means you possibly don't have to upgrade your current PC or head for the costly hardware or software for video editing.
It has a robust built-in editing toolkit that enables you to convert, cut, crop, merge, split, rotate, any types of videos shooting from GoPro, DJI, iPhone, and other popular devices. It also helps to fix the shakiness, annoying background noise, dimming or color issues in the video. It's simple and intuitive interface makes the editing work fairly easy like walking in the park.
Free Download VideoProc to Process Your Videos on an Average Computer Easily!